Whether you're planning a trip to Alaska during summer or winter, I'm going to tell you how to see Portage Glacier!
Portage Glacier is one of many glaciers on Alaska's Kenai Peninsula. It's located 50 miles south of Anchorage and it ranks as one of the easiest glacier hikes near Anchorage.
Portage Glacier once extended the entire length of Portage Valley. Over the years, the glacier has retreated to the eastern side of Portage Lake. You can no longer see Portage Glacier from the road, or the Begich Boggs Visitor Center.
But there are still many ways to see the glacier and get up close to it! Depending on the time of year, you can hop on a boat cruise on Portage Lake, or hike nearby trails.
How to Get to Portage Glacier
By car – If you have your own car, you can drive to Portage Glacier in less than an hour and a half. The Begich Boggs Visitor Center at Portage Lake is 55 miles south of Anchorage and Portage Pass Trail in Whittier is 60 miles south of Anchorage. This is the best and cheapest option.
By train – The Alaska Railroad offers service from Anchorage to Portage and Whittier on the Glacier Discovery Train. Service runs late May to mid-September. Fares start at $89 one-way, per adult.
By shuttle bus – Another option throughout the summer is to hop on a shuttle bus for a self-guided tour. This is a great option for independent travelers. Round-trip transportation from Anchorage to Portage is $89 per person with Turnagain Arm Shuttle.
Visit Portage Glacier During Summer
There are only a few ways to see Portage Glacier during the summer, due to the fact that Portage Lake is open water during this time. You can get up close to the glacier by taking a boat across Portage Lake, or paddling across in a kayak. But if you just want to get a glimpse, you can see the glacier when you hike Portage Pass Trail in Whittier.
Portage Glacier Cruise
If you're only in Anchorage for a short time and you're looking for a short Alaska glacier cruise, then I would suggest cruising across Portage Lake. The mv Ptarmigan is the only boat operating on Portage Lake and they offer daily departures from May 16 to September 16.
On this 1-hour tour, you'll get to stand 300 yards from the glacier and watch for the glacier to calve, while learning about the geology, wildlife, and history of Portage Valley.
Rates start at $39 per adult for the cruise only option. You can also book a cruise & tour package with Gray Line for $89.95 per adult. This package includes transportation to and from Portage Lake, and stops at the Alaska Wildlife Conservation Center. AWCC is one of my favorite places on the Turnagain Arm!
Kayak Across Portage Lake
Kayaking to Portage Glacier is possible throughout the summer when Portage Lake isn't frozen over. It makes for a fun day trip if, especially when it's nice and sunny out!
You can find the boat launch about a quarter-mile past the Begich Boggs Visitor Center in a parking lot turnout overlooking the lake. The trail is just a short walk down to the water and there is a tiny beach where you can get your kayak into the water.
Once you get your kayak into the water, you'll want to stay close to the eastern shoreline. The lake is larger than it seems and if it's windy, it'll be challenging to paddle around. Make sure to check the weather conditions before you get out there.
While you're kayaking around, you'll get to pass lots of little waterfalls and maybe even get next to some icebergs floating around the lake. Always keep your distance because glaciers can calve and icebergs can roll over, at any moment.
Portage Pass Trail Hike
Distance: 4 miles
Time: 2 hours
Elevation Gain: 750 feet
Difficulty: Moderate
Portage Pass Trail is the only established trail with a view of Portage Glacier. This 4-mile roundtrip trail starts in the small town of Whittier, just 60 miles south of Anchorage.
You might stop in Whittier on your Alaska cruise, but if you're coming from Anchorage, you will have to go through the longest combined vehicle-railroad tunnel in North America! The Anton Anderson Memorial Tunnel alternates direction every half hour. Roundtrip tickets start at $13 one-way. View the tunnel schedule here.
The trail begins with 750 feet in elevation gain and levels out at the top of the pass. Then the trail descends all the way down to Portage Lake. You'll be rewarded with spectacular views of the glacier and surrounding area. If you packed a lunch, you can enjoy it on the gravel beach.
You can hike Portage Pass Trail in a couple of hours, but it will take you longer if you want to hang out by the beach or continue around the lake to get closer to the glacier (this requires you to cross deep water). Portage Pass Trail is best from March to October.
How to get to Portage Pass Trailhead from Anchorage:
Take the Glenn Highway South for 48 miles. Turn left towards Portage at Portage Glacier Road. Follow Portage Glacier Road through the tunnel to Whittier. Turn left onto Portage Glacier Road. Turn right at W Camp Road. There will be parking at the end of the road.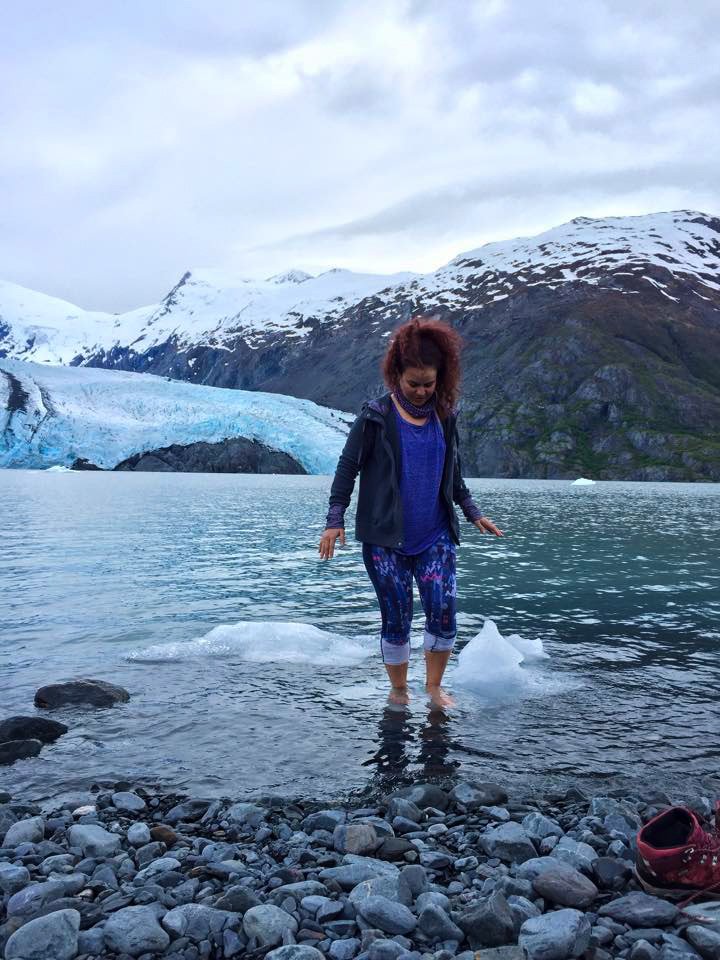 Visit Portage Glacier During Winter
At some point throughout the winter (around February), Portage Lake will usually freeze over completely. This opens up plenty of opportunities to see the glacier hidden around the bend.
Portage Lake Winter Hike
Distance: 6 miles
Time: 2 hours
Elevation Gain: Flat
Difficulty: Easy
Portage Glacier is only accessible on foot when the conditions are just right. Getting to the glacier requires Portage Lake to be completely frozen over.
The trail starts from the parking lot near Begich Boggs Visitor Center. Head down from the parking lot to Portage Lake to begin you hike across the lake.
This is a very popular winter hike, so it's more than likely you'll find an existing trail. If there is fresh snow on the lake and no trail, it will be much harder to cross. You will be exhausted trying to break trail.
Make sure to stay closer to the eastern shoreline as you travel across the lake, and have the appropriate gear with you.
How to get to Portage Glacier Lake from Anchorage:
Take the Glenn Highway South for 48 miles. Turn left towards Portage at Portage Glacier Road. Follow Portage Glacier Road for 6.5 miles. Keep right to continue on Portage Lake Loop, follow signs for Portage Glacier/Begich Boggs Visitor Center.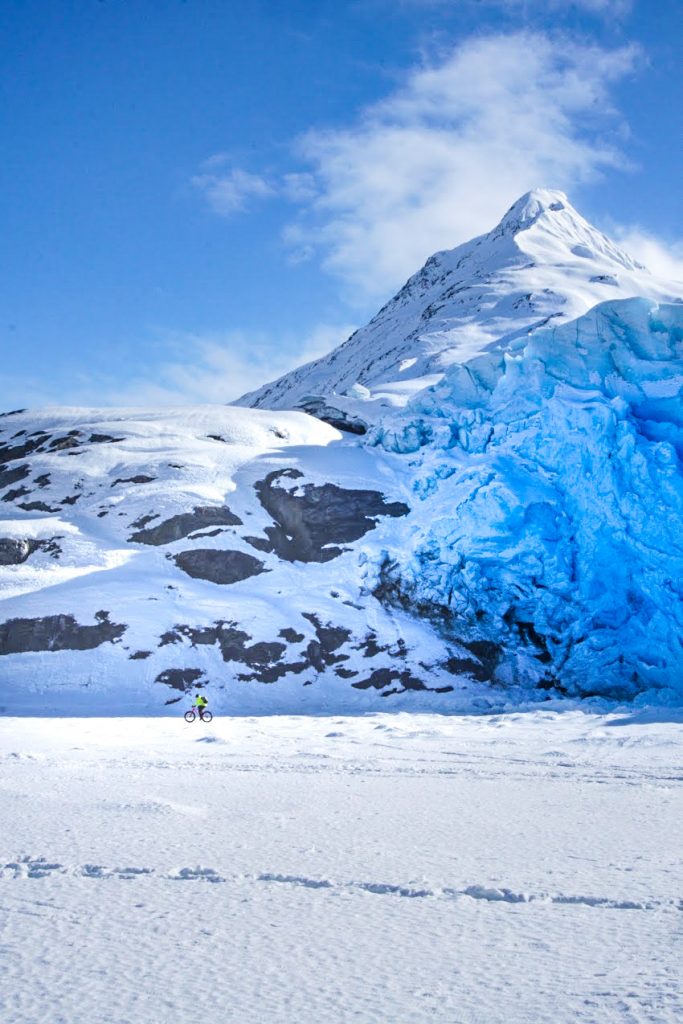 Other Ways to Visit Portage Glacier
It's common to see people fat bike or ski across Portage Lake during the wintertime. You can also see the glacier during a flight-seeing tour of the area. You may also find other day tours that make a stop at Portage Glacier.
Read next:
Did you enjoy this post on how to see portage glacier? Save it on Pinterest for later!